The Orange Label

collection at Floorcenter represents our budget-friendly range, yet it maintains the exceptional quality you've come to expect from us. Our products feature 100% Birch plywood in conjunction with high-quality European oak,all crafted in our state-of-the-art production facility in Bosnia.

 The Red Labe

l

range consists of a collection of especially  produced flooring, which are finished with oxidative Osmo  Hardwax oil. The warm character of the floors are created by  
 an unique build up of finishings.

 The Black Label

range consists of a unique line of hand made,  high end designer floors for architects and interior decorators.  
 The collection varies from very modern to worn out antique in
 a 
range of exceptional colours.
UNFINISHED EUROPEAN ENGINEERED FLOORING
with a 100% Birch plywood base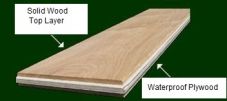 12 mm ( 9 + 3 mm)
12 x 185 mm rustic - select
12 x 220 mm rustic - select
16 mm ( 12 + 4 mm)
16 x 185 mm rustic - select
16 x 220 mm rustic - select
16 x 240 mm rustic - select
16 x 260 mm rustic - select 
Herringbone
15 x 120 mm rustic - select
15 x 140 mm rustic - select
Chevron 60 degree angle
15 x 120 mm rustic - select
15 x 140 mm rustic - select